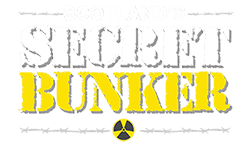 Scotland's Secret Bunker
Crown Buildings, Troywood
Nr St Andrews, Fife. KY16 8QH.

registered company SC269643.
WE ARE CURRENTLY CLOSED FOR THE WINTER.
Subject to Government restrictions on opening and travel, we will re-open on Monday 1st March 2021 until close of season Sunday 31st October 2021. We look forward to seeing you then. Stay safe and well!