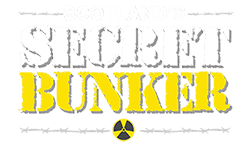 Scotland's Secret Bunker
Crown Buildings, Troywood
Nr St Andrews, Fife. KY16 8QH.

registered company SC269643.
NOTICE OF CHANGE TO OPENING DUE TO COVID-19 CORONAVIRUS PANDEMIC
Due to government restrictions on travel, from now until the end of season on Sunday 29th November 2020, we will open only on Saturday and Sunday. We apologise to all our customers and visitors for the inconvenience. We look forward to returning to normal hopefully in the Spring of 2021.